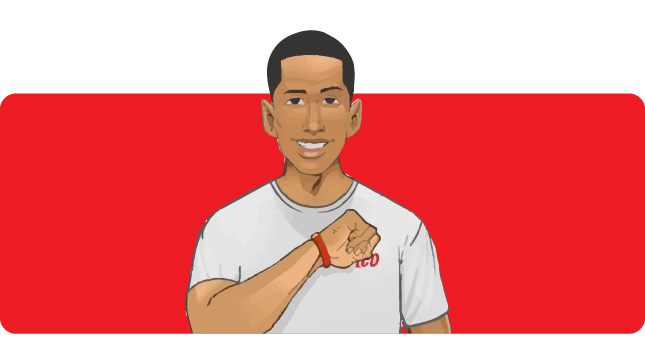 Have you met Leo, the UBA Virtual Banker?
LEO is the disruptive UBA artificial intelligent chatbot, that enables customers to do their banking while on Facebook Messenger and WhatsApp.  LEO was the first of its kind introduced in Uganda and Africa and this was done in partnership with Facebook. Plans are underway to roll it out on other social media platforms.
With LEO, you can perform various banking and lifestyle actions listed below:
– Open an account.
– Make transfers from bank to wallet and to other UBA accounts
– Pay bills (UMEME, NWSC, StarTimes, DSTV & GOTV).
– Buy Airtime for yourself and others
– Check your account balance.
– Freeze accounts
– Get a mini bank statement.
– Reset your Card PIN
– Locate a UBA branch or ATM.
– Complaint Module: Log and track complaint.
– He can even tell you the weather.
How do I start Using LEO?
Simply click here or send 'Hi' on WhatsApp +256752245245 and ask Leo anything or Simply go to your Facebook Messenger and search for 'UBA Chat Banking'. He'll surely respond. Leo is a 24/7 chat buddy.
Yes, 100%, it has verification procedures that no one except the owner can prompt for any transaction to be completed.
What are the benefits of using LEO?
– It's convenient no need to walk to the bank

– User friendly and quick to access.

– Transactions are safe as no need to hold physical cash.
UBA Uganda 'A certified Great Place to work'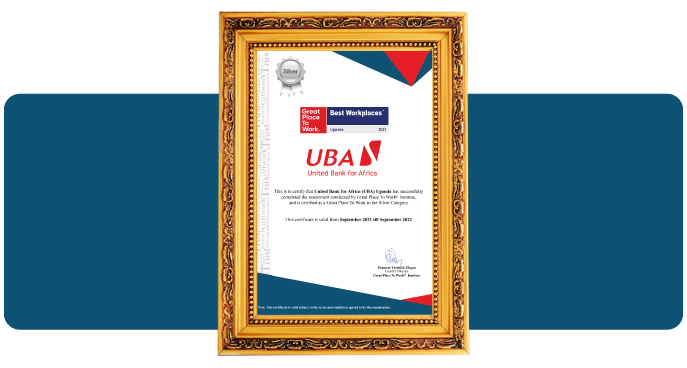 UBA invited staff to participate in an employee survey conducted by Great Place To Work®. As the global authority on workplace culture, they collect feedback employee experience at work to help the organization understand how to create a great workplace for all. The participation was completely confidential and all responses went directly to them. With an impressive 85% participation rate across the group, UBA Uganda emerged the best place to work and was duly certified, having met the minimum requirement of 65% GPTW Score.
The survey showed that UBA Uganda is a safe, happy, supportive and conducive environment to work in and now possess the Silver standard in employer brand recognition globally. The UBA staff proved to be motivated and hence serve customers with the same energy, dedication and customer excellence.
UBA Uganda donates UGX 5M to the CURE brain surgery Run 2021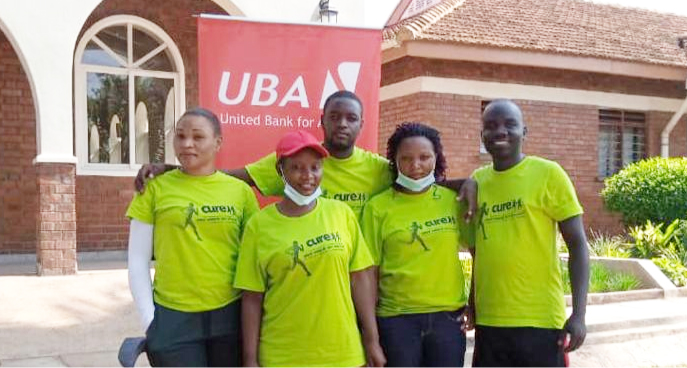 Cure Children's hospital of Uganda organised the 5th annual 'CURE Brain Surgery' Run in conjunction with Wapakhabulo Family on Saturday October 23rd, 2021 to raise funds to help support surgeries for vulnerable children.
UBA Uganda through its Mbale Branch donated UGX 5m to the noble cause and participated in the CURE Brain Surgery' Run. The funds will help support surgeries for vulnerable children with Hydrocephalus, Spina Bifida, brain tumours and other life-threatening neurological Conditions.
Each year, Cure Uganda provides lifesaving brain surgery for over 1,500 patients and treats more than 7,500 outpatients with neurological conditions. We are hopeful that the contribution made by UBA will go a long way in improving the health condition of some of these patients. UBA will continue to invest and support community health improvement programs for the betterment of our people.
Meet your UBA Banker – The Customer Experience Champion.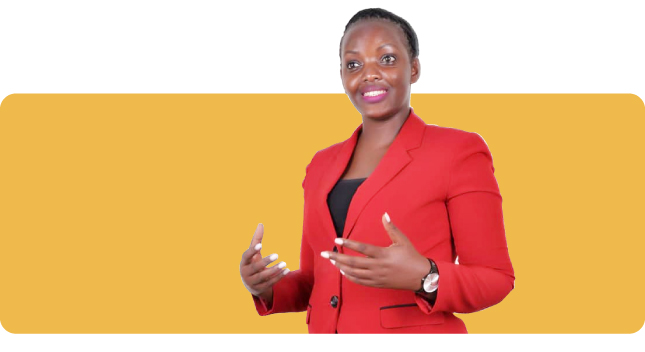 What is your name and role?
My name is Hoziana Niyonsaba Ssemanda and I am the Team Lead Customer Experience.
How long have worked at UBA and what is your most memorable experience here?
I have worked at UBA for 7 years, 10months and 4 days (I joined at on the 15th Jan 2014). There are many memorable experiences but the major two are (1) When my first boss in UBA (Mr. Wilbroad.H.Owor) appraised me after 6 months, called me to go through the appraisal results, I had passed and got to be confirmed as a permanent staff of the Global Bank. (2) Is when our Chairman (TOE) visited Uganda, by then I was Team Lead CFC and he recognized my performance when we were at Serena and called me out for a hand shake and a photo.
Describe your typical day at UBA?
The moment I reach the office compound I offer a prayer to dedicate my day and the whole Bank. When I enter office, I first check my mails to see what could be urgent and requires my attention. It's after that I write my to do list for that day beginning with what has the shortest timeline and my work starts. At 1pm I have my lunch. Before leaving I must look at my to do list to confirm what has been done and whatever may be pending becomes the 1st thing for the following day.
What exactly does Customer Experience mean?
What our customers go through at every service touch point from the moment they think of using UBA to the last point they access the service at any time and what they take with them as perception about the UBA brand and our services.
What do you do to delight UBA Customers?
I always address those I have served before by their names & tittle (where applicable), greet them first and after serving them I thank them for choosing UBA. If its an issue to follow up, I keep the customer updated in the process with the end in mind.
What should customers expect from you in 2022?
Our customers can expect better services at all our service points and more education regarding our services and products mostly on the digital channels. They should know that we shall always put them first in 2022, because all we do is for their delight!
Trade as a source of local and International Growth.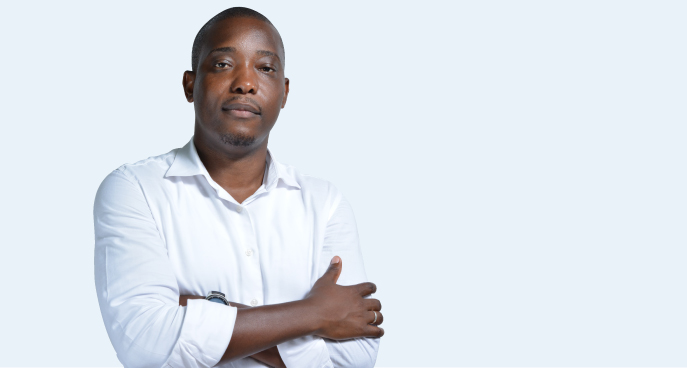 From the eyes and perspective of Julius Muwonge, the CEO J.P Wong Energy, "As a player in trade, you can't trade efficiently on the world market, without the right skills and standardized benchmarks especially in agriculture." The businessman made these remarks at the recently concluded 1st Edition of the Business Series held on November 24th, 2021 titled 'Trade as a source of local and International Growth.' 
He also advised that entrepreneurs should be aware of their surroundings, what's happening and apply it in the new normal by taking advantage of the present resources to adapt and innovate.
The UBA Business Series is an online webinar event aimed at providing our existing and prospective business customers with practical learning experiences to enable them take their businesses to the next level.
Click HERE to watch the 1st Session of the UBA Business Series.
Withdrawal of £20 and £50 paper notes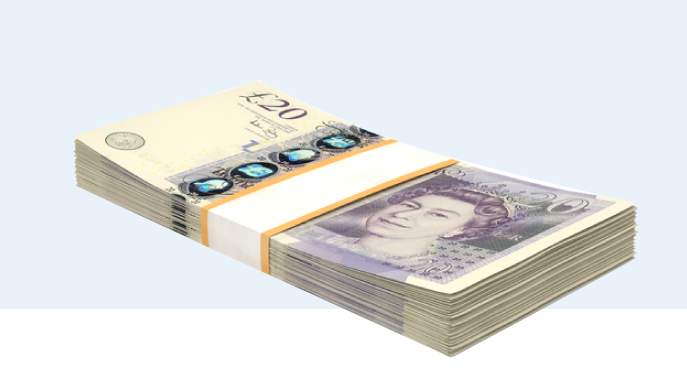 The Bank of England will be withdrawing legal tender status of the paper £20 and £50 notes after 30 September 2022, and is encouraging anyone who has these at home to spend or deposit them at their bank or Post Office. After the deadline you will no longer be able to use the paper note, as it will be replaced by a plastic version. 
Shoppers started seeing the new £20 note in their pockets from February 20, 2020 when the note first went into circulation. Plastic £20 notes joined the Churchill £5 and the Austen £10 already in circulation and both are now made of plastic instead of paper. The latest addition to the line-up of new safer and more secure notes is the polymer £50 featuring Alan Turing which went into circulation on June 23 this year. These plastic designs are more durable than the paper versions and they are susceptible to fraud.
By April 1st, 2022, UBA will stop accepting £50 and £20 paper notes from customers at all our branches across Uganda and so we advise that you deposit any paper notes that you may have before March 31st, 2022.
For enquiries, please contact our Customer Fulfilment Centre (CFC) on +256 800100030, +256 780142329, or send an email to cfcuganda@ubagroup.com
. 
UBA Will never ask for your Account details