Customer Newsletter February 2022
Customers win TVs and Microwaves in 'Transact & Win Big Campaign'.
Two lucky UBA customers were crowned the overall winners in the 'Transact and Win Big Campaign' Grand draw held on February 2nd, 2021 at UBA Uganda Offices. Ms. Phiona Tibulya and Ms. Gladys Mukibwa won a TV and microwave oven, through a raffle draw, for all customers who participated in the 'Transact and Win Big Campaign.'
The campaign rewarded all customers who sent and received money using UBA Uganda money transfer services including Western Union, MoneyGram, Small World, Ria, AfricaCash and UBA Connect from December 1st, 2021 to January 31st, 2022. Over 300 customers were rewarded with UBA Branded items for transacting with UBA.
Click HERE to read More.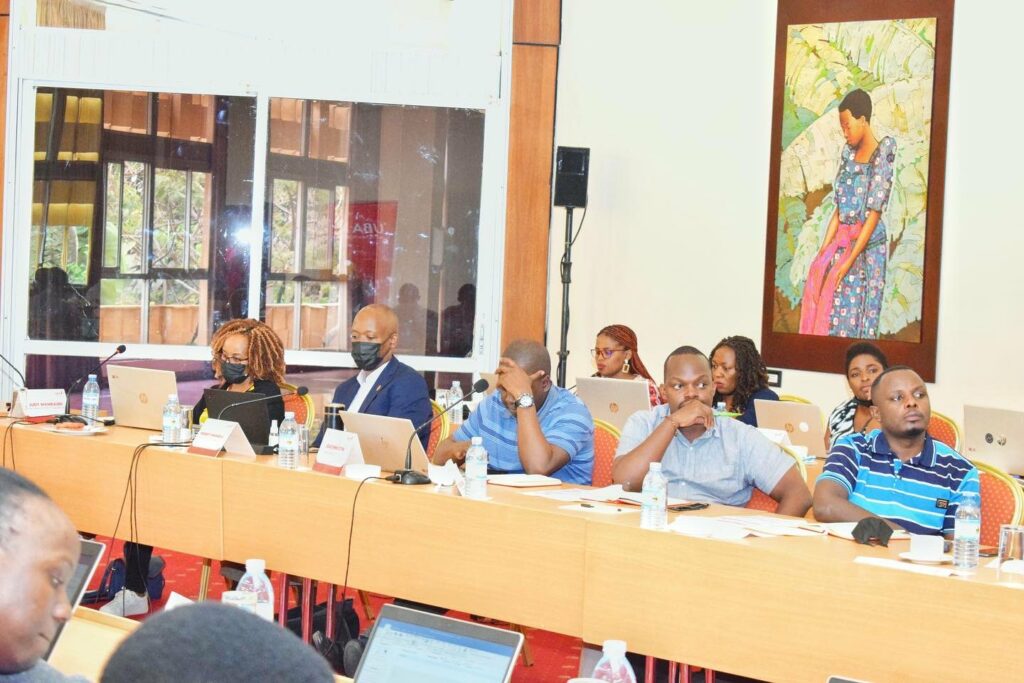 UBA Uganda Holds 2022 Board Strategy Session
The Board of Directors, Managing Director/CEO, Heads of Departments and business leaders held the first board strategy session on Saturday 5th, January 2022 at Kampala Serena Hotel.  The UBA Uganda management team presented the performance of the bank in 2021 and plans to sustain and grow the business in 2022. 
The Board of directors thanked the management team for the good work done but charged them to work even harder in 2022 to grow the customer base of UBA Uganda and increase product update by customers in 2022.
Read more HERE.
Protect your accounts from Fraudsters.
Hackers and scammers are always looking for ways to get your bank account information. Staying proactive and following some simple safety tips can help you protect your bank account.
Signs That It's a Scam
Scammers pretend to be from an organization you know or impersonate someone you know.
Scammers often pretend to be contacting you on behalf of the government. They might use a real name or make up a name that sounds official.
Some pretend to be from a business you know, like a utility company, a tech company or the bank.
Scammers will also pose as a family member or friend.
Be extra cautious in situations like this as fraudsters will prey on your emotions.
Scammers say there's a problem or a prize.
Scammers pressure you to act immediately.
Scammers tell you to pay in a specific way.
What You Can Do to Avoid a Scam
Don't give your personal or financial information in response to a request that you didn't expect. Legitimate organizations won't call, email, or text to ask for your personal information.
Resist the pressure to act immediately. Legitimate businesses will give you time to make a decision. Anyone who pressures you to pay or give them your personal information is a scammer.
Know how scammers tell you to pay. Never pay someone who insists you pay using a money transfer service.
Stop and talk to someone you trust. Before you do anything else, tell someone — a friend, a family member, a neighbour — what happened.
We Can Help
UBA is here for you! Whether you'd like some guidance determining if a call or email is a scam, or if you've fallen victim to fraud, please reach out to our branches. A member of our team will be ready to assist you!
Additionally, you can call our toll free line 0800100030 or WhatsApp 0780142329 or email cfcuganda@ubagroup.com
Tips on Saving Money on Fuel.
The price of fuel in Uganda has risen, this means you have to dig deeper into your pockets to foot this bill. Here are some fuel saving tips to reduce your trips to the fuel station.
• Keep constant speeds and allow the car coast to a halt approaching major stops. Do you know that for every time you accelerate and apply the brakes immediately, you just waste that fuel?
• Plan your route: knowing where you are going can save you fuel you spend being lost.
• Keep your car properly maintained and serviced at all times , changing the fuel filter when due and use good engine oil.
• Don't let the vehicle idle for more than a minute.
• Lighten your load. Think carefully about what you need on a journey. If you do not need something, do not pack it.
Meet Nazziwa Mary AKA 'Lil Banker'.
My name is Nazziwa Mary aka Lil Banker, I joined the UBA family on 1st November 2017, and am glad to say am a proud teller at UBA head office, Jinja road.  
What is it like being a lil banker?
Being a Lil banker is the best thing ever, associating with people, being loved and loving back customers. 
What can customers expect this New Year?
Customers can except more energy, customer service, and continuous support with extraordinary performance.
If you could be given a chance to travel, where would you go?
If given a chance I would travel to Santorini, that has always been my dream country.
What's your fashion style & taste?
My fashion taste is elegant fashion style.
If what are the top three things you can't live without?
Top three things I can't live without 1-GOD   2-FOOD  3-MY PHONE.
What lessons can you share with the customers?
I appeal to customers to always secure their pin codes and not sharing pin codes with any one.
Any New year remarks? 
let's stay safe, look out for each other, our masks should be on because Covid is real.
~Happy new year~